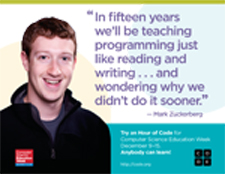 Anyone in SC, especially the Greenville area, who is interested in 21st Century computing is invited to celebrate computer science at Southside High from 5:30 to 7:30 on Dec 12th 2013. There will be displays and demonstrations set up in the hallways with various presentations in classrooms -- something for participants of all ages and interests.

Learn about exciting career opportunities from tech talent expert and recruiter Blake Coleman. CS is no longer just for math and science geeks. There is a CS related career for everyone including individuals with a passion for the fine arts and humanities. There are even CS opportunities available for students who don't attend college.

Learn how Computer Science is being used in bio-medical research from Dr Brian Dean of Clemson University

Hear about exciting computer science educational opportunities, including free opportunities for K-12 students, summer camps, certification courses, college and university offerings.

Participate in the Hour of Code -- Computer labs will be open for those who wish to do so.

See how computer science can be taught without computers! We will be demonstrating numerous CS Unplugged exercises.

See demonstrations of incredible high school student-written Android apps including an app being developed in collaboration with Clemson University for use in an African hospital.

Watch robots perform

Admire entries in "We Are the Faces of Computer Science" poster contest with exciting entries from local students.

And much more!
_______________________________________________________________________________
Sponsored by
Computer Science Teachers Association (CSTA) SC Chapter and Southside High School, for more information contact Tom Rogres at tkrogers@greenville.k12.sc.us .
Participating organizations:
FGP International, Clemson University, IToLogy, Greenville Technical College, EnTech, and many others.