SAM is a retired FIRST Robotics competitor. He was built by the UpStaRT team (now called EnTech or simply team 281) with the sponsorship of Michelin and competed in the 2001 First Robotics event.
In his previous role as SAM Sr. was a crowd pleaser but not for his athletic skill. He originally had a large basket for carrying balls attached to a telescoping neck that could lift the basket 12 ft off the ground. Unfortunately, with the heavily loaded basket raised to great heights, SAM Sr. was prone to tipping over in a dramatic crowd-pleasing manner.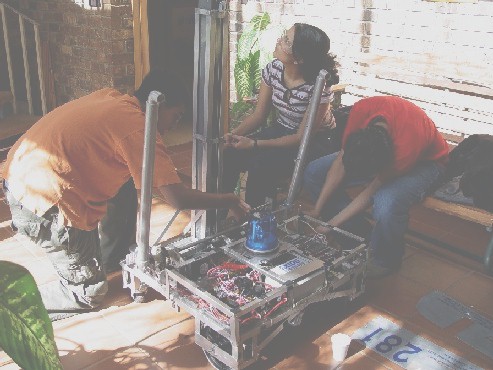 After his retirement from competition, Team 281 donated SAM Sr. to Southside and we spent a year modifying him as shown in the above picture.
SAM Sr. was refitted with a new skin made of an aluminum and plywood composite that substantially reinforced his somewhat weak frame. His basket was replaced with a shiny new complete with a TV camera eye, an artificial ear, and a speaker so that he can communicate with everyone and share his wisdom. Alas, he lost his two arms, but they could only move up and down. Besides, they had no grippers.
Sam Sr. has made multiple personal appearances at Roper Mountain Science Center as a science education ambassador and numerous appearances at Southside High School.
These days, SAM Sr. is semi-retired but is about to be reactivated with Android phones for his control system.
To help young people get excited about potential careers in engineering,
To demonstrate basic principles taught in math and science classes
To act as a test platform for developing new mobile robotic manipulators and control systems.
SAM Sr.'s Latest Modifications
Hopefully one day SAM Sr. will get arms but for now we're modifying him to be controlled with Android phones. His previous controller was part of his original equipment as a FIRST competitor and contained a very limited amount of "brain-power". A single Android phone boosts this power by several orders of magnitude and opens up many new possibilities.
So, after being modified, SAM Sr. will be a virtual genius compared to his previous lack of intelligence. Besides, operating a 7 ft tall robot with an Android phone is just plain cool.
SAM Sr.'s head, about to get an IQ boost